UQ Outback Ecology replace the far west with out Little Liverpool Range
The Land Restoration Fund has been offering landholders financial incentives to assess how they can participate in carbon farming and provide environmental, social and economic co-benefits to Queensland.
Supported by this initiative, a group of landholders from the southern Brigalow belt have been collaborating with QTFN ecologist Dr Renee Rossini on documenting environmental values on their properties. Lucky for Renee, the country they manage abounds with unique Queensland flora and fauna.
The properties adjoin one of only two known locations of the highly specific Bulloak Jewel Butterfly. Similar to the Apollo Jewel which QTFN works to preserve in northern Queensland, the Bulloak jewel is a "goldilocks" of sorts.
Their caterpillars are cared for by only one species of ants, which use the old bore holes of beetles on only one species of tree (the bulloak Allocasuarina luehmanii), and the adults are particularly fond of only one species of mistletoe that grows on that tree. Since February, the landholders and Renee have been hot on the chase of signs of their butterfly and its very specific habitat.
The properties also support pockets of the endangered brigalow community, the majority of which was found in Queensland but now only 10% of its original extent remains.
The landholders already protect and restore areas of this endangered ecosystem, as well as the unique gilgai wetlands that form within it. Gilgai is a word borrowed from the Gamilaroi First Nation's word for the undulating 'melon holes' that form in the brigalow belt.
Thanks to bumper rains in February, these ephemeral wetlands filled to the brim on this group of farms, supporting diverse aquatic ecosystems. Lucky for the team, rare plant specialist Dr Jennifer Silcock was in the area and stopped past for a survey which documented at least one new endangered plant for the property.
Renee and the QTFN team look forward to continuing to work with these amazing landholders on protecting and restoring the unique Queensland biological assets they protect.
The large bent-wing bat, photo from the Australian Museum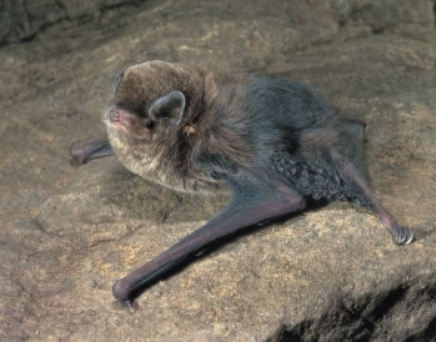 The Little Bent-wing Bat, photo from NSW Threatened Species profile.
UQ students enjoying the camp fire at Aroona.