Celebrate Queensland's Biodiversity by connecting with Nature
National Biodiversity Month is celebrated every year across Australia during September. At the Queensland Trust for Nature, we aim to get more people connecting with nature and valuing Queensland's biodiversity. As part of National Biodiversity Month, we have prepared a calendar to provide ideas of how to connect with nature for at least 20 minutes per day for the month of September. 
The term biodiversity is used to describe the enormous variety of life on Earth. Queensland is the most naturally diverse state in Australia, home to more than 1,000 ecosystem types, 70% of Australia's mammals, 80% of its native birds and more than 50% of its reptiles, frogs and plant species. 
Biodiversity is every living thing, including plants, bacteria, animals and humans. These living things are responsible for the air we breathe, the water we drink and the food we eat. "Without biodiversity, there is no future for humanity," says Prof David Macdonald, at Oxford University. 
We have set the challenge – 20 minutes per day connecting with Nature. Let us know how you go! 
Download QTFN interactive Calendar for September here: QTFN National Biodiversity Month Calendar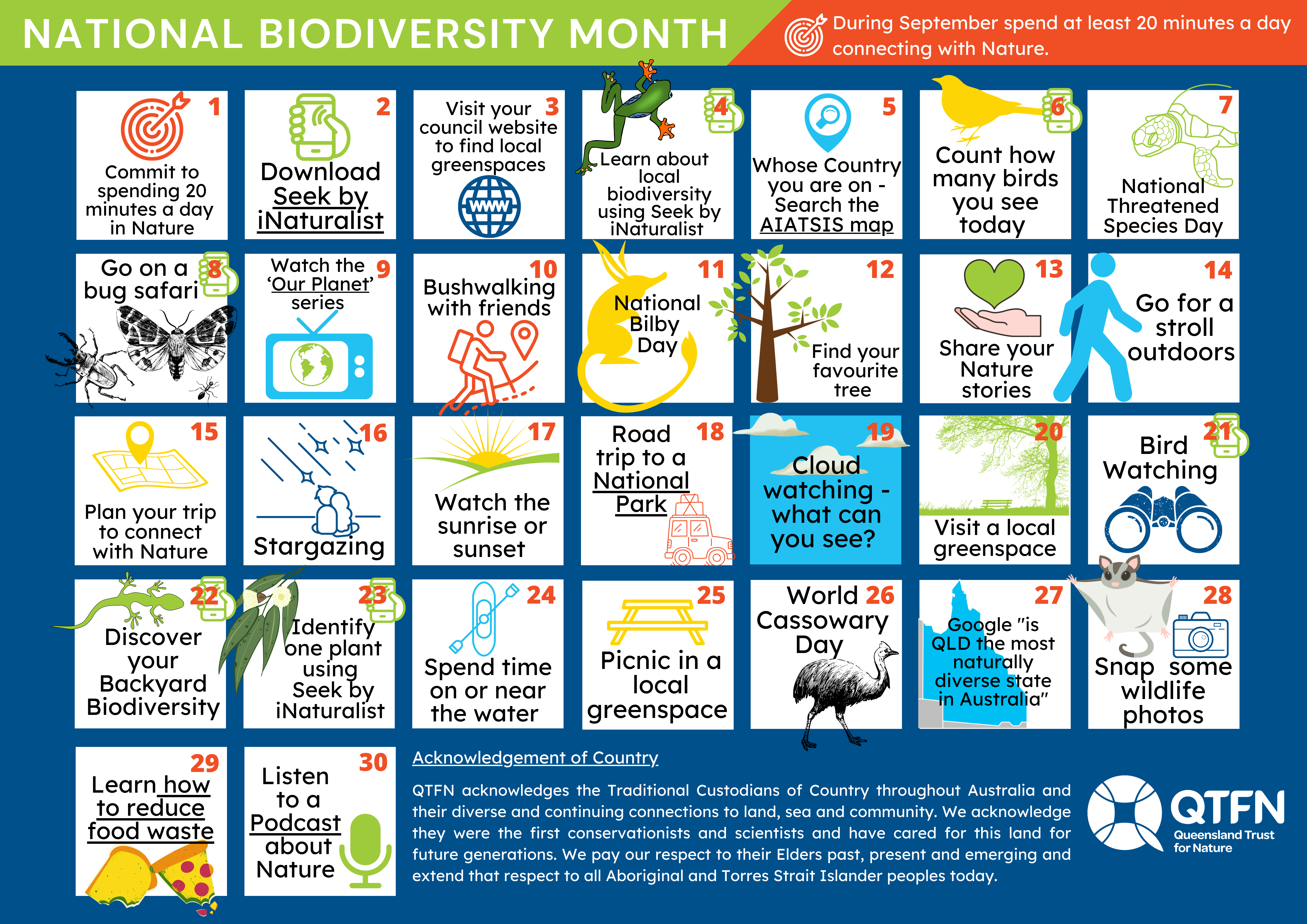 How to connect with Nature:
Plan an adventure in Nature
Search the Queensland Government Parks and Forests website to plan a trip to connect with Nature

Search Google Maps for a "arboretum", "botanic gardens", "conservation park", "walks", "reserve" to find a greenspace near you to explore and connect with Nature.

 

Find your local government website or facebook page to see what events or greenspaces they may have near you to connect with Nature. Here is the directory of Queensland's local governments
Books, Podcasts and Documentaries about Nature
Find engaging books about Australian Biodiversity, we suggest Australian author/illustrator/environmentalists like Queensland's very own Narelle Oliver who sadly passed away in 2016.
Watch your favourite documentary film or series on Nature. Our suggestion of a great engaging series is "Our Planet"
Find a podcast about Nature and start listening, Dr Ann Jones from the ABC is particularly engaging and you can find her podcast "What the Duck?!"