Ten replacement practices for a healthy planet
Two years ago, I made a commitment to better protect my skin from the sun. At the time, the idea of sun baking with no sun cream seemed perfectly reasonable. Today the thought of it horrifies me.
In 2018, a ban on single-use plastic shopping bags was introduced in Queensland. When the ban started, I was carrying all my groceries in plastic bags with little concern. Today, I would rather carry produce on my head than admit to forgetting my reusable shopping bag.
Individuals and society can pivot fast. Given the threat climate change poses only seems to be growing, I believe we as individuals can learn to reduce our carbon footprint. By being mindful about the environmental impacts of the way we consume, our waste footprint, our daily use of energy and the way we transport ourselves, we can make a real difference.
Sameer Deshpande, Acting Director of Social Marketing at Griffith University believes social change managers have struggled to persuade society to embrace the six or so 'R's', refuse, reduce, reuse, repurpose, recycle and repeat.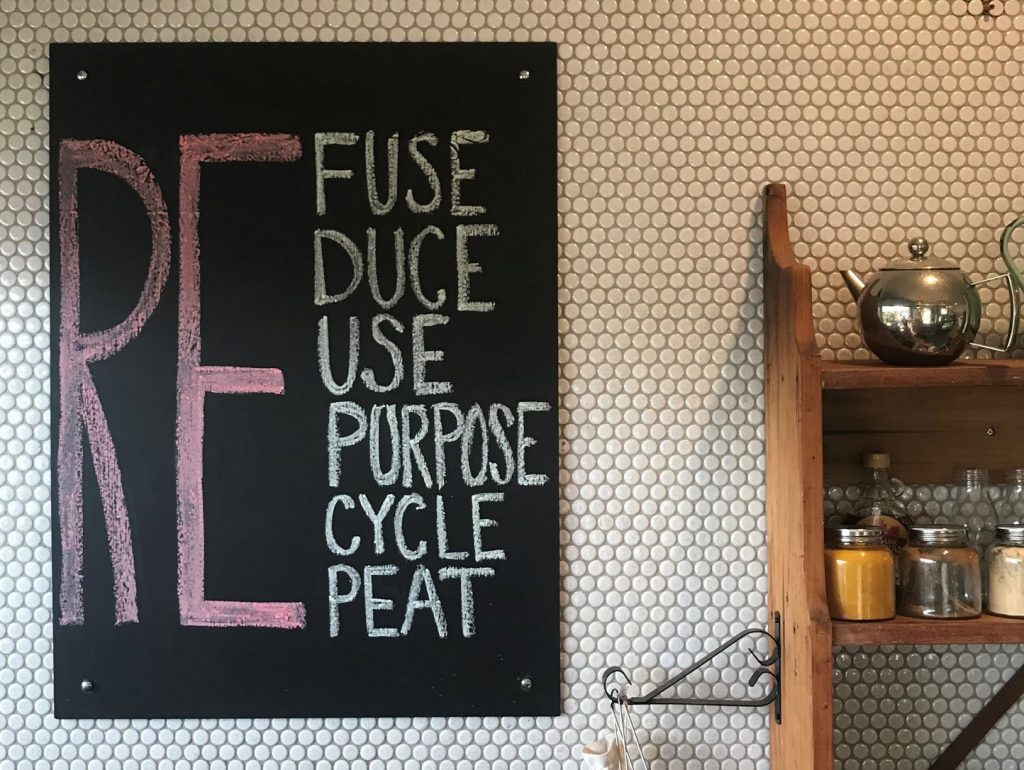 Kitchen sign at the Island Fruit Barn Stradbroke Island
Rather than asking people to reduce or recycle, he believes a new 'R', REPLACE, will make it easier for people to adopt more environmentally friendly behaviours (e.g., LED light bulbs replace incandescent or CFL bulbs to save energy and money).
Once people get used to choosing environmentally friendly goods and services, it can easily become a habit. Quick wins in the immediate future can lead to sustained positive behaviours that help us get out of the situation we are in. Replacement thus makes practical sense.
As the next ten years are critical to reducing carbon emissions, I have listed ten replacement practices below that we can easily adopt to improve the health of the planet.
1. Think global, act local. In Australia, we are blessed to have some of the world's best produce right on our doorstep and there's never been a better time to support local farmers. Shop at your local butcher, fruit and veg store, visit a farmers market or order a fruit, veg or meat delivery direct from a local farmer or coop. By supporting local producers you can more easily gain insight into the sustainability credentials of what you are consuming.
2. Reduce your waste footprint. Replace single-use plastic products wherever you can and consider buying products made from recycled materials to encourage sustainable manufacturing. Replace plastic sandwich bags with paper bags. Carry your own reusable shopping bags everywhere you go, it's a really easy way to reduce plastic pollution. If you live in a wealthy country like Australia, there is generally no need to drink water from plastic bottles and very often tap water is better quality. Don't leave home without your reusable drinking bottle.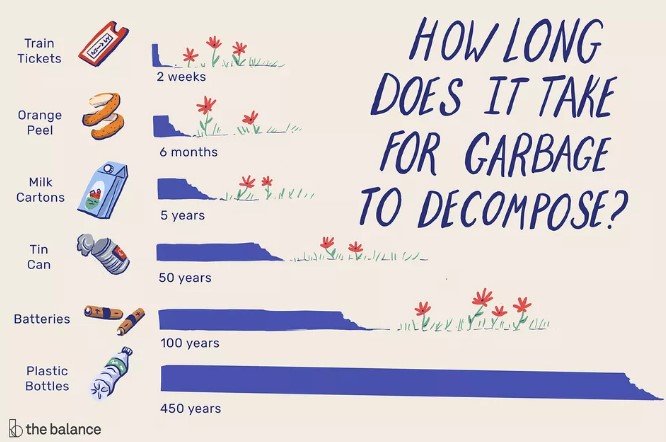 3. Go back to cake soap. Ditch liquid soap, shampoo and conditioner in plastic bottles and replace them with cake soap that's either unwrapped or sold in a cardboard box. If your bathroom is overflowing with plastic bottles and it's weighing on your mind, there are more and more outlets selling cleaning products in a bar.
4. Walk it out. Walking isn't always an option but when you can replace a car trip by throwing on your sneakers and walking instead, there are multiple benefits. If you are lucky enough to live on a bike path or cycle way, why not replace your commute by riding to work. Not only can it be quicker and cheaper, riding a bike is fun and good exercise too.
5. Have a yarn. Talking about sustainable behaviours with your friends, family and work colleagues can help drive these changes more widely. Replace your usual water cooler chat with a conversation about the drought, declining rainfall or increasing temperatures. Brainstorm habits that can be replaced with more environmentally sustainable ones.
6. Plant a tree. Replace your carbon emissions with carbon absorption. Most council areas in Australia have a bushcare group you can join for organised tree-planting and bush regeneration activities. By planting trees you are contributing to carbon absorption, whilst reaping the benefits of connection with nature such as reduced stress and improved immunity.
7. Change for good. Kerbside recycling can result in contaminated recyclables going to landfill, but most states and territories now have a container deposit scheme as a replacement option. Not only do you receive a refund for each container returned, studies revealed a 35% reduction in container litter in the environment, after the first six months of the scheme being introduced in Queensland last year. Better still, most container deposit schemes offer the option of donating your refund to a local charity.
8. Grow your own. Replace store bought produce with fruit and veggies from your own backyard, community or balcony garden. Gardening is good for both mental and landscape health. Aim to replace introduced species where you can with local native plant species to support all the critters and wildlife who visit your patch.
9. Take charge of your finances. Most superannuation funds invest in a mix of industries, which could include gambling, tobacco, weapons, coal mining and other fossil fuels. There are however an increasing number of sustainable investment portfolios that abate more carbon than they produce. By replacing your existing superannuation fund with one more sustainable, you will make a positive contribution to the long-term health of the planet.
10. Be mindful. If there's a new behaviour you'd like to adopt, think mindfully about practical steps you can take towards replacing old habits with new ones. A meal planner for example is a good way to minimise food waste and maintain a balanced healthy diet. Replace your small handbag with something bigger that fits a refillable water bottle.
There are many ways to contribute to a healthier planet. What are you doing or will commit to doing soon?